30. Don McLean's
American Pie-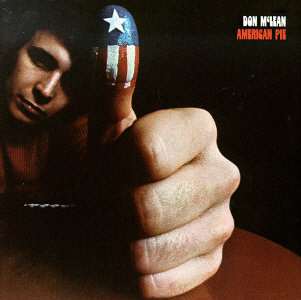 The underdog of the upper echelon albums, amidst an array of hig production, high art and epic albums,
American Pie
sticks out like a sore thumb for this list. If anyone who knows this album an it's beautiful simplicity, you agree then that it is a magnificent work of art. This album isn't on here for the titular song (even though no one can deny its greatness) but rather for the watered down acoustic songs that shine through. The wordsmith that
is
Don McLean is at his all time best on this album. Songs like "Crossroads" and "Vincent" are truly beautiful ballads. And they aren't ballads laden with overproduced sounds, but ballads that come from the heart and straight to the listeners ear. The lyrics to a song like "Empty Chairs" leap off the record and hit any listener with it's beautiful imagery. Heres a snipet:
"Moonlight used to bathe the contours of your face
While chestnut hair fell all around the pillow case
And the fragrance of your flowers rest beneath my head
A sympathy bouquet left with the love that's dead"
If that isn't amazing songwriting, I don't think I know what is.
American
Pie
is a must own album and one that needs to be spread around. We all know the song, but you should all get to know the album as well.
29. Pavement's
Wowee Zowee
- It's albums like this that make me wonder how some artists got
record deals ever. And it's not because its bad or unmarketable... it's just out there. And it's not out there like some "out there" albums. The thing that makes
Wowee Zowee
amazing is its schizophrenia. What most people would say is the main problem with the album (not coherent totally and sometimes shifting from genre to genre to sounds to whatever is going on in Malkmus' head) is what makes it golden. Songs like "Western Homes" and "Rattled by the Rush" and "Flux=Rad" probably wouldn't fit if it were any other band. Pavement just knows how to craft insanity into somehting coherent. It's bizarre but listening to this well written album with some of Pavement's best guitar licks ("Grounded" "Half a Canyon" Serpentine Pad") and some of their quirkiest moments, it makes for a great album listening experience. It takes a true Pavement lover to see the amazing fury that is
Wowee Zowee
.
28. David Bowie's
The Rise and Fall of Ziggy Stardust-
Bowie's alter ego shines in his first truly glam rocker album. Some of Bowie's best come from this good 'ol record. From the beginning,
Rise and Fall
brings you to this world that has been created by the atmosphere that Bowie has given us. "Five Years" is one of the stand-outs on this album and in Bowie's catalogue. "Moonage Daydream" into "Starman" brings the one-two punch that will leave you gasping for air. "It Ain't Easy" won't give you that chance to rela. It isn't until side two that Bowie eases up his rock grip, but not for too long before unleashing "Suffragete City" on you. The catharsis that is wrought by the closer "Rock and Roll Suicide" is the perfect way to end the album. Bowie redefined the genre glam rock with this album emulating such great as T-Rex and Mott the Hoople on this. Although those other bands opened the floor for glam, Bowie was the first one through throwing his rock and roll elbows all the way on
Rise and Fall
.
27. Brian Eno's
Before and After Science-
This was my first hearing of anything Brian Eno (excluding stuff he produced for Talking Heads and Bowie) and life hasn't been the same since. The album starts with some funky jams on the first side and ends with moody, ethereal songs that makes the listener feel they are coming out of a hectic day and sliding into deep sleep. This isn't to say that this is a boring album. In fact, it's quite on the contrary. Brian Eno creates sound from instruments that no one thought was possible from said instruments. He created landscapes of sound that sucks the listener into a world unknown to them. There are fun songs like the sickly addictive "Backwater" and "King's Lead Hat" to beautiful touching melodies like "By This River" or "Here He Comes." The album is one of the best from the 70s avante garde movement and the best of Eno's career. Also, be sure to get a good look at this album cover before the next time you watch
High Fidelity.
It appears on Cusak's wall and in his record collection several times.
26. The Flaming Lips'
Yoshimi Battles the Pink Robots
- After
much listening of the new album these past few days, going back to
Yoshimi
made me appreciate it again on a higher level. This is easily the best album to come out since the turn of the century. With a mixture of classic Floydian structure and futuristic sounds in the vein of Eno, The Lips create an atmosphere that I have never heard before listening to this album. Songs like "One More Robot" and "Are You a Hypnotist?" create this ethereal mood in the listener that has yet to be topped by any artist. "Do You Realize?" is one of the most beautifully written songs music and lyrics wise. In "Yoshimi Battles the Pink Robots Part 2" you get a great feel of the intense fight sequence that you hear and can visualize from the ornate and odd sounds that come from the instruments. As a cohesive concept album
Yoshimi
stacks up with all the other ones you are sure to see in this list. It is a landmark for the band and will go down as one of the best of all time.
25. Refused's
The
Shape of Punk to Come-
"They never say the classics go out of style, but they do...they do. Somehow, baby, I never
thought that we do to." The first line of the album is a mission statement of such irony that it boggles my mind. Saying that they were going out of style was quite hilarious, for Refused single handedly changed the face of Punk music with their final album
The Shape of Punk to Come.
I'm not a huge fan of hardcore/punk rock when it comes to this, but I never heard a punk album more well produced and with better hooks and insane drumming. The first song "Worms of the Senses/Faculties of the Skull" prepares you for the maelstrom that is to come. A sweeping 7 minute punk song? Who would have thought it possible! "The Deadly Rhythm" is just that. You collapse your thyroid after heavey listening. "New Noise" and "Summer Holidays vs. Punk Routine" are the best pre cursors to what other bands would try to sound like, but never even come close. I like to look at this album as Prog-Punk in some ways due to its interludes, song overlaps and almost conceptual feel. It's amazingly written and bad-ass supreme at the same time.
24. The Rolling Stones'
Sticky Fingers-
From the first track to the last,
Sticky Fingers
is the Rolling Stones' best work. From 1971, the turning point year for classic rock (
Who's NExt, Led Zeppelin IV) Sticky Fingers
is pure rock and roll at it's best. Songs like "Brown Sugar" and "Bitch" will keep you rocking while "Dead Flowers" and "Wild Horses" will tear down the house with their uplifting and moving lyrics. Where the rock really stands out is on the 7 minute jam peice "Can't You Hear Me Knocking". The opening riff alone will suck you into a vortex of rock and then spit you into a mindfield of sounds coming form the sax, the guitars and tons of percussion. The first full album with Mick Taylor, you can definitely tell where the Stones decided to embark with their brand of bad-boy British rock. Although many see
Exile on Main Street
as their magnum opus, its here on
Sticky Fingers
where we see the same style yet in a more tight and compact form.
23. Talking Heads'
Remain in Light-
With the minds of Eno and the Heads, you really can't go wrong.
Remain in Light
is the apex of their matchup as it culminates both the otherworldly
sounds of Mr. Eno and the pop music mentality and insanity of David Byrne and the rest of the Heads. From start to finish, the album is a constant explosion of sounds, riffs and insane lyrics that only David Byrne and Co. could produce. Songs like "Born Under Punches (The Heat Goes On)" and "The Great Curve" are danceable third-world tunes that combine epic feel with overlapping vocals, riffs, beats and other sounds. "Once in a Lifetime" is one of the greatest pop songs to ever be released, but does not lose integrity amongst the other more artsy stuff on this album. This album is the greatest recording of the 80s and the highest on this list. Among a lot of new-wave crap, psuedo-disco songs and other pop that came out in the 80s, the Talking Heads didn't waver into the realm of crap.
Remain in Light
stands to this day as one of the most groundbreaking and brilliant albums of the 20th century. Side Note: This album was voted the worst album to listen to when hung-over. If you don't believe me, imagine all the symptoms of a hangover when listening to this next time and see exactly why you would shoot your record player if it was on.
22. The Red Hot Chilli Peppers'
Blood Sugar Sex Magik-
Bringing back funk into the rock mainstream is what the Chilli Peppers did in the 90s and thank God they did. With
Blood Sugar Sex Magik
, the perfect intergration of rock and funk came to fruition. Each song is dripping with sex, passion and pure fun. From "The Power of Equality" to "Sir Psycho Sexy" you get a giant conglomeration of sounds that come togehter in an amazingly crafted album. We all love "Give it Away" and "Under the Bridge", but the greatness goes beyond these hit singles. Songs like "Funky Monks" and the titular track beg us to dig deeper into the possibilities of Funk Rock, Frusciante's guitar licks, Flea's bass wizardry, Chad Smith's rythym foundation and Keidias' transcendent vocal work all add up together to make an album that goes beyond genius and sends RHCP's into the upper echelon of amazing rock bands to come out of the 90s. Dare I say one of the top 3? There is no doubt in my mind and all the proof is in
Blood Sugar Sex Magik.
21.
Warren Zevon-
One of the most birlliant songwriters of all time, Warren Zevon's seld titled
second album often gets overshadowed by his almost as solid
Excitable Boy
much to often. As much as his silly songs from
EB
are great and all, the songs on
Warren Zevon
exceed the silly factor and go straight to some of his best songs (fun, poignant and beautiful.) Warren's ability to write an amazing love song is shown on this album. "Hasten Down the Wind" and "Carmelita" are truly beautiful love songs. "I'll Sleep When I'm Dead" and "Poor Poor Pitiful Me" sound fun and silly, but deep down, they are really dark songs about troubled minds. Only Warren's amazing delivery filled with Spanish and sweet interjections could make a song with the lyrics "I've got a .38 special up on the shelf, I'll sleep when I'm dead If I start acting stupid I'll shoot myself" can sound fun and hilarious, but you know there is a hint of truth in these words. "Desperadoes Under the Eaves" is easily his best song and the only way I can end a review on this amazing album is with my favorite words from a song. Warren, you hold the key to my inner being.
"Don't the sun look angry through the trees? Don't the trees look like mystified theives? Don't you feel like desperadoes under the eaves? Heaven helps the one who leaves."
20. The Zombies'
Odyssey and Oracle-
I'm a sucker for the British invasion bands, but no other Brit band of this time can take the crown of an all around excellent album like the Zombies do with
Odyssey and Oracle.
This album makes
Pet Sounds
look like a day at the zoo... and I hate zoos. The orchestration on this album is sheer beauty. With harpsichord, strings, catchy guitar riffs and beautiful harmonies that soar into the cathedral ceilings of the studio space make this album so great. It's the sheer simplicity of the words in "I Want Her She Wants Me" and "Time of the Season" that make it an amazing pop album, but then dark themes in "Care of Cell 44" and "Butcher's Tale (Western Front 1914)" that make the album have a ton of depth. The most amazing song is the simply charming and tour de force of "Changes" that points to the future of music to come. Many indie rock bands take the sounds that the Zombies pioneered on this album and go with it to new musical heights. There is no way that any true lover of great music should be without this album. If someone never hears the song "A Rose for Emily" or "Brief Candles" before they leave this world, they did not yet lead a great life. Enriching to the heart is what
Odyssey and Oracle
does. Simplicity and complexity can sometimes walk hand in hand.
19. King Crimson's
Red
-
When I first listened to this album, I was pretty much floored. King Crimson took prog rock to new levels that wouldn't be matched until they did it again after a 7 year hiatus.
Red
was released in 1974, yet listening to it makes you feel like it came out only a few years ago, if not months. The song writing that KC had the ability of doing was always amazing, but this album they only had three guys to do it (minus the few studio musicians on select songs.) Knowing this, listen to songs like "Red" or "Fallen Angel" and try to imagine doing that with three people. Unbelievable. The trio of Wetton, Buford and Fripp is uncanny. Easily the greatest rhythm section in prog, bass lines care of Wetton will floor any fan of the bass and the ability of Buford to fill in a space in a song with crazy drum fills in intense. Fripp, words are hard to describe his guitar style. Just listen to songs like "Starless" and try
not
to be floored by the epic nature of it. No prog fan should be without this disc. Simplicity is far from what makes this album great, but the intricacies of the music is what makes it amazing.
18. Nine Inch Nails'
The Downward Spiral-
The most intense album released in the 90s,
The Downward Spiral
is the apex of the industrial music movement. Trent Reznor and, well, just
Trent as rumor has it, records overlapping loops of synths, extremely distorted guitars, drums, and sounds that even the likes of Brian Eno never dreamed possible from the instruments used. The chaos of sounds as "Mr. Self Destruct" kicks of the album points to just where NIN will take the listener. It's a ride down the spiral into a void of darkness that in its madness is truly brilliant and at points beautifully dark. Songs like "Heresy" and "Closer" show the influence that industrial music can have on a hard rock song. It's a blending of genres that needed to happen and that no other artist even attempted to make popular as I can't even think of any other artist that released something that sounded similar and anywhere near as good as
The Downward Spiral.
Ending the album with "Hurt" shows the light at the end of the dark spiral, although the light is pale and only somewhat hopeful for the future. Among the music of the 90s, NIN sticks out like a sore, bloated thumb, but its a thumb that I'm glad sticks out.
17. Bob Dylan's
Highway 61 Revisited-
From start to finish,
Highway 61 Revisited
is Dylan's most solid effort. With some of the greatest songs ever written and most of Dylan's best on one album, you don't really get much better. This album came out in the year of 65 when the world was exploding, when music was changing and when electricity ran through Dylan's guitar. Good thing all of this happened, because these politically charged rock and roll/folk tunes would influence many many other artists to come and bring in the age of the greatest rock music ever created. "Like a Rolling Stone" was the flagship of the fleet, but songs like "Ballad of a Thin Man" and "Desolation Row" packed just as much power as the leader of the pack. IT's not hard to believe how this changed everything. The sheer songwriting Dylan could churn out was phenomenal.
Bringing it All Back Home
was released early in 65 and stacks up almost equally to this, but its on
Highway 61
that Dylan declared war on the music world and won that war. Nothing else was ever the same...that is of course until the Beatles, but the Beatles wouldn't have done it without meeting Dylan.
16.
Weezer's
Pinkerton
- Voted Rolling Stones worst album of 1996, you begin to wonder what was wrong with people in the 90s.
Pinkerton
is so far and away better than so many other
albums of the 90s, that it took many people to realize why it was great. When a songwriter digs deep into their own psyche, you get some of the best written stuff ever. This plus an amazing cast of musicians who know how to write pop music, you get a product that exceeds excellence. I owned
Pinkerton
before I owned any other Weezer cd and was simply blown away as a young 13 year old. As much as they suck now, Weezer was an integral part of shaping my musical life, esp. this album. "Tired of Sex" showed me how to rock. "The Good Life" showed me emotions. "No Other One" and "Why Bother?" showed me what could happen with love. It wasn't until later that songs like "Across the Sea" and "Butterfly" would show me just what level Weezer was working on at this point; one that will never come again. Beyond being a pop album,
Pinkerton
transcends pop music much like some of the Who's albums. I never made this connection before, but albums like
The Who By Numbers
with its dark themes of love, rejection and isolation in a bed of catchy hooks is just what
Pinkerton
did for the 90s.
15.
The Beatles-
The coveted White Album.
It's really a no-brainer when it comes to the Beatles why their albums are so awesome. They have three of the greatest songwriters of all time. On this album, you get McCartney's masterworks of songwriting. Every Paul song shines above any other song he had written to this point and wrote after this. "Mother Nature's Son", "I Will", "Rocky Racoon", "Blackbird" and "Back in the U.S.S.R." are just a few of his that are the pinacle of his career. This is not to say Lennon and Harrison's cuts are not as good. "While MY Guitar Gently Weeps" is my fav Beatles song of all time with Clapton layin' down the licks. "Happiness is a Warm Gun" and "Glass Onion" are just two examples of Lennon's undying talent for the obscure and the drug-infused rock that they could write. The album is from 1968 and sounds just as lush and beautiful as it did in that era. When people say the Beatles are "overrated" and such, they have to look at the artistry the band was producing and the years their albums came out. Other albums from 1968 look out of date next to
The Beatles
and it's easy to see why they are claimed to be the greatest rock and roll band of all time.
14. Pink Floyd's
Animals
-
The last truly amazing Floyd album (yes, I said it)
Animals
shows the sheer musicianship and songwriting encapsulated in three epic length songs and two short acoustic ditties on the outside of the chaos. The album is a great take on Orwell's
Animal Farm
(not exactly, but pretty much) and scathes the class system in each of the songs. My first listening of this album, I was completely floored by how amazing these songs are. "Dogs", "Pigs (Three Different Ones)" and "Sheep" each have their own feel and each rock out with the fury of any other Floyd songs of the past. In fact, it's safe tos ay this is the most rock infused album that Floyd has put out. Rather than ethereal tones and sounds, we get an industrial feel and a forboding look at the world.
The Wall
comes close, but tries too hard. These songs are complex but at the same time minimalistic. It's easy to get lost in the long epics on this album and this is what keeps the listener enthralled. The songs never feel long and are always just long enough without getting boring.
13. Television's
Marquee Moon-
Among the albums of the late 70's, amidst the punk rock and new wave movement was a band out of the hot-bed of CBGB's that decided to just keep the rock
and roll feeling alive. With stripped down sounds and epic length songs, Television's
Marquee Moon
was an album amidst a changing tide in rock. This album stands as a true test that rock and roll would never die and didn't. Tom Verlaine and Co. wrote some of the greatest epic rock songs of the late 70s. "See No Evil" and "Friction" are the accesible rockers that the band produces with their clammering guitars and sweeping solos. "Venus" has one of my top 5 all time lines in any song with the hilarious and sad lyrics "I fell right into the arms of Venus De Milo" (get it... she has no arms.) "Marquee Moon" is one of my top 5 fav songs of all time with its existential lyrics and crescendo of sound that explodes into an ethereal guitar twinkle that makes life worth living. "Torn Curtain" is an amazing closer with, again, amazing guitar work that any fan of rock music needs to hear. I know I've been saying that with some of the more obscure albums on this list, but
Marquee Moon
definitely needs to be added to everyones music library.
12. Pavement's
Terror Twilight-
The best slack rock band of the 90s final album,
Terror Twilight,
is by far the greatest accomplishment. With the producing skills of Nigel Goodrich and the sheer songwriting skills of Stephen Malkmus, some of the most enduring Pavement songs are found on this album. The craziness of
Wowee Zowee
and the raw feel of
Slanted and Enchanted
are stripped away for this album. The songs are much more polished, but the structures are still classic Pavement. "Spit on a Stranger" and "Major Leagues" are two of the bands best singles with very otherwordly feels to them, but another world that eases the mind. Pavement also rocks some of the best jams on this disc with "Cream of Gold", "Platform Blues" and "Speak, See, Remember" that have structures that change constantly. "Carrot Rope" is the only song that no matter whats going on in my life, it will bring a smile to my face. Overall, Pavement is pretty great stuff.
Terror Twilight
is an amazing final album where they continue to improve their sound and keep true to the greatness of their past albums.
11. The Who's
Who's Next
- It's obvious that
Who's Next
belongs this high. This is an album of sheer perfection. Coming off of the success of
Tommy
and
Live at Leeds
, this album is a
divergent feel for The Who. You may be thinking "divergent? what?" but yes, it is. Listen to the albums of the Who before this and try to make clear cut connections. They brought in a lot of new guitar work a la Pete, more production value with lots of overlapping sounds and tracks and an album structure that was pretty different from the rest. Regardless of all of that, it's in the songs that makes
Who's Next
stand as a monolith to the Gods of Rock. "Baba O'Riley" is not only the greatest rock anthem of all time, it also brings out the best of people when listening to it. "Bargain" is the underdog rocker on this album. Overlooked by the other amazing songs many times, we forget the awesome power this song packs. "The Song is Over" and "Getting in Tune" are beautiful numbers with tons of emotion and feeling behind the music. "Won't Get Fooled Again" is yet another of the greatest rock and roll anthems with the greatest rock and roll rebel scream ever. "Behind Blue Eyes" is a beautifully dark portrit of the tortured soul that is Pete Townshend. The Who still knows how to have fun with their music via "My Wife" "Going Mobile" and "Love Ain't For Keeping." All and all, no matter how much radio stations love playing these songs over and over again,
Who's Next
never loses it's flair like some other rock songs and albums. This shows just how amazing it is. Also, probably my favorite album cover of all time.