Here it is, Trick of the Light.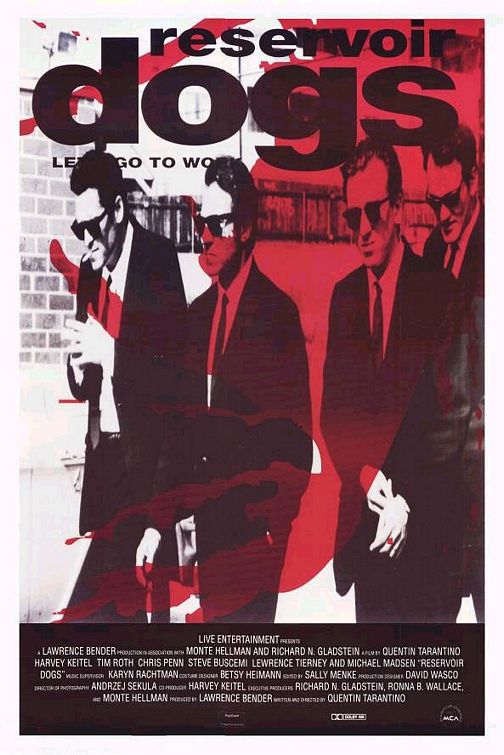 Most people when placing their all-time fav movies have
Pulp Fiction
as their highest film of the Tarantino catalogue. However (and this is
not
the reason it makes it up this high), I believe that Tarantino was at his best during
Reservoir Dogs.
Without relying on big name actors (at this point, people like Madsen, Roth and Kietel were
not
the A-List actors of most of Tarantino's works to come) or a big budget (
PF
was 8 mil and
RD
was 1.2 mil), it still acheived the same level of great storytelling, characters, dialogue and gritty violence that its predocessor did. And for my dime, its overall a much more enjoyable experience. The way the film is edited into seeing into each character individually and in Tarantino's usual non-linear fashion is crisp, refreshing and fun.
Most of us know what the film is about, but for those unsure or for those who haven't seen the film (which means you need to see it NOW), you have your basic hiest-gone-wrong. One of the men on the job is a cop and the whole twisting and turning of the story goes on with the characters, but the audience knows fairly early on in the film whats up. This adds a level of suspense even though we know who tipped off the cops.
Buscemi, Kietel, Roth and Madsen play off of each other in sweetest perfection. Roth in his bleeding state is one of the most over-the-top yet perfect roles of his career. Only his role in
The Hit
could measure up with this one. Madsen plays the cool, calm and psychotic criminal to a tee. Kietel is your basic redeeming crook with an ethical code that runs him into walls later on in the film. Buscemi is the man-on-the-run character who only cares for himself. Buscemi proves that an actor can be unattractive yet totally enthralling with this role.
Tarantino had so much control over the flow of this film that it is next to impossible for me
not
to appreciate how he took a shoe string budget and made the film work. The backdrop of 70s vintage hits, you have your classic Tarantino love of music, explotation and ultra-violence.
It all started here.