It's a boy, Mrs. Walker. It's a boy.
I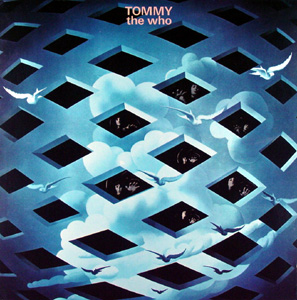 t's hard for me to now admit that this album is way down here at #6. It topped my albums list for a solid 8 or so years of my life. I first really got into it in eighth grade which was 98. Now its 2007 and it has fallen from grace to #6. Needless to say, it's still a brilliant, amazing gem of an album.
Any person who knows me understands that I am the biggest Who fan they will pump in under the age of 30. This album is the reason I am that huge Who fan. It was the springboard for my love. There is no album that engrossed so many years of my life. Not even the next five would have ever gotten the same amount of overall listening time. Even if you counted all the times I listened to select songs on the rest of the top five, it wouldn't compare to the amount of time I listened to this great album. I had tapes of it for my car, vinyl records (my parents and now my own copy) and I had it burnt many many times and purchased it once on cd (lost in Greece.) Regardless, if I had the chance, I would have had this album on every possible medium. I'm not going to break down the tracks or talk about lyrics for this guy. In fact, this is going to be the shortest post. There is a religious event that happens anytime I listen to this album. And of all the albums on the list, this is the one that speaks the best for itself rather than me for it.
So kick back, pop it on, light a candle, turn out the lights and zone out for a good 79 minutes.
Tommy
will take you on an amazing journey that will change your musical perspective.